Different Types of Office Desks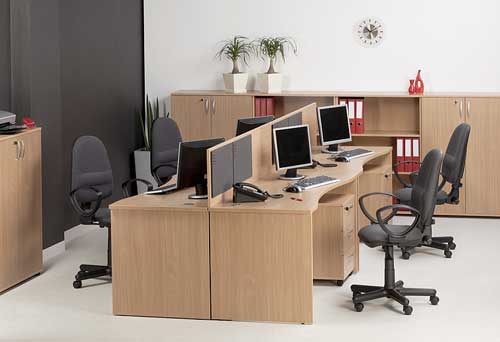 Office furniture refers to any type of furnishing put in the office to be used for a specific purpose. Given that a number of functions are performed in the offices, various types of furniture are used in the offices to carry out different functions.
For example, office desk comes with a writing surface where people can write. Documents and files can be kept on them. Some desk comes with drawers or compartments that are used for storage purposes.
With improvement in furniture construction, different types, designs and sizes of desks are being introduced on regular basis. Its use is no longer limited to writing, storage use or any other functional purpose. It has some aesthetics benefit. This explains where some types of office desks are very stylish.
Different types of materials can also be used in constructing and office desk. There are some that are constructed with plastic materials. You will also find office desk that are constructed with metals or metal combined with another material. Wood is another material that can be used in the construction of office desks. However, different types of woods are used. Some are made from hardwood such as oak. There are also some desks that are made with softwood or combination of softwood and hardwood. Engineering woods and or veneer can also be used to make office desk. (Please follow this link if you are interested in furniture removal.)
Following from the above, you can see that office desks are available in a number of types and these types can be classified in many ways. Here are some most popular types of office desks.
Office desks according to purposes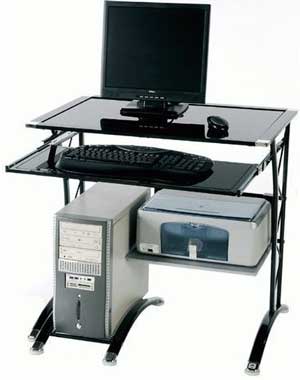 As implicit from the name, this type of desk is specifically meant for keeping of computers and for computer operators to work on their computers. It is available in a number of designs.
Some designs have just one surface where the monitor, keyboard and system unit are kept. There are some computer desks that have various compartments for keeping the monitor, system unit and keyboard. Some of the computer desks are adjustable to suit the size of the computers that are kept on them and also to meet the requirement of the users.
As the name already tells you, this type of office desk is designed for receptions or people at the reception. It can be constructed with wood or built with slaps or concrete.
Office desk according to shape
Office desks are available in a number of shapes. So, it can be classified according to their shapes. Here are some types of office desks according to their shapes.
This type office desk takes U form. The user normally occupies the open side of the desk. It is most suitable for people performing a lot of task or people that require much space in order to carry out their function. The top of desk creates much space for the user to keep a lot of files, computers or other office supplies.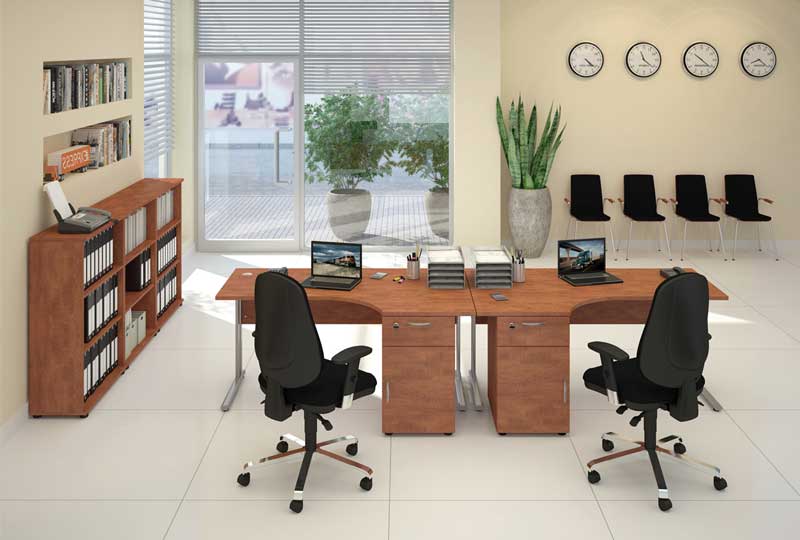 It comes in L form. The longest side is used as a reception for visitors while the shorter can be used to keep office equipment such as printers, scanners and the likes.
It has a circular large top where files and other office equipment can be kept. It can also be used for reception purposes.
Classification based on materials used in constructing office desks
As it has been said before, there are various materials that can be used in constructing office desks. Here are some types of office desks based on the materials used in constructing them.
This type of office desk is made from wood such as hardwood, veneer or softwood. The quality of wooden office desks depends on the type of wood used in constructing them. Given that woods can be fashioned in various shapes, wooden office desks are available in a number of shapes.
Office metal desks
This refers to office desk constructed with metal materials such as stainless steel, chromed metal, aluminium and others.
This is meant with plastic material.
Normally, the top of this type of office desk is made from glass while the legs are meant from wood or metal.
Concrete or slap is used to construct this type of desk. Concrete or slap-made office desks are normally permanently fixed in a place.
What ever type of office desks you have we are ideal office removal company for the job. Contact us today for a free advice and move planning. Our estimator will pay your a free visit at your convenience.