Furniture removals
The first stage of each office furniture removal begins with carrying out labelling. This can be effected by the client or our move management team, as applicable. All desks, chairs, filing cabinets, pedestals and reception furniture should be labelled with unique location identification in correlation with the space plan. Next the client together with one of the movers can carry out the pre-move damage audit. All furniture with a defect should be photographed. You can also leave a short note on the label. The next thing is to protect all areas in the building.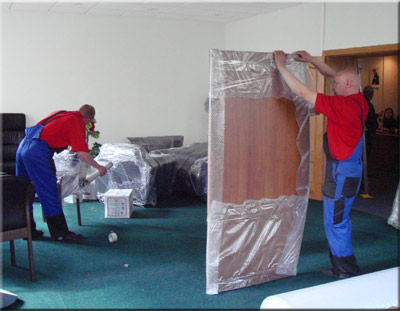 The following means can be applied:
Use Correx on walls, doorways and lifts
Use Hardboard on floors including lifts
Ensure that Correx and boarding are taped together to avoid movement
Lo- tac tape utilised on walls/lift interiors to avoid residual damage upon removal
Preparing office furniture for removal
Dismantle furniture
Remove desk returns and screens
Bag up screw/nuts and bolts and label
Label furniture sections to assist re-assembly
Remove shelves from lateral cabinets
Dismantle system furniture according to manufacturers requirements or to enable access through limited doorways
Label all components to facilitate reassembly
Moving office furniture - Loading the vehicle
Load furniture items onto furniture skates or barrows and transport to vehicles
Load furniture into removal lorry stacking items covering each item with transit blankets as loading progresses
Secure goods in vehicle restraining items with webbing straps to avoid movement in transit
Off-load - transport furniture to new location - position as space plan - reassemble as required
Ensure furniture is correctly placed and is safe
Remove building protection from site
As a part of our standard office staff relocation solutions we transfer allfurniture to the new office. Carefully unload the lorries, move all goods to the new building and distribute according to the floor plan. At this stage only the office furniture installation team can stay on the site. The movers can have a short brake of comeback next day finish off the job. Once all major tasks have been completed the foreman checks if nothing is missing, got lost or damaged. The porters are to remove the protection and all rubbish. The labels can be left on the office equipment for another week, just in case of any unexpected or additional changes.
Office Furniture Product Audit prior the move
Two key activities of carrying out your office removals are the on-site auditing of your current system furniture layout and the Audit Analysis showing the shortfall and excess of items against the requirement at the new sites. This process is also good to establish if there are any unwanted office furniture. You can simply dispose it off or do it the green way - recycle it. Of course we can advise you on the best office clearance solutions.
The first stage is the on-site auditing of components at your existing location. This is carried out by two auditors who assess the entire product inventory and complete a Product Audit Form. Two auditors are required in order to ensure complete accuracy of the product count.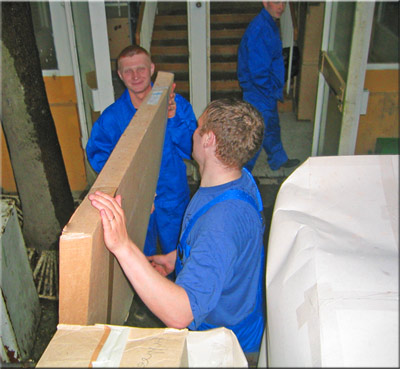 One of our office relocation managers then completes a separate product audit, known as a 'take off' from the floor plans of the new site and compares this with the product audit from the old site. The final analysis shows shortfall and excesses for each component and this is recorded on the Product Audit Form. The final result is then brought to your attention and exact product requirements are established. We specialize in offering London, Brimingham nad Manchester office removals, so contact us today if you need local movers offering furniture relocation.
Before the office furniture removal begin it is important to know the precise move sequence, department by department or floor by floor. This then allows the auditors to prepare separate product audits for each individual area. This is important because, although all of the required components may exist in total, certain areas will move ahead of others and have a need for additional components much earlier in the move programme. These components cannot be taken from office desks, filing cabinets or other business storage units that are still assembled and being used and so components may need to be brought from store to cover an immediate need. Product Audits of specific areas will highlight this before the furniture move commences.
At the end of the move programme, an excess of products is likely to exist and an inventory of these will be presented to you and they can then make a final decision on what happens to those excess items.
Office furniture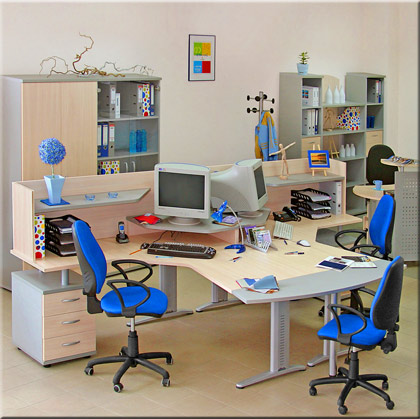 With all the standard varieties and many different types of office furniture it is not an easy thing to establish which furniture system is the best choice. You need to take into account all features of a particular office. The correct choice of a filing cabinet or the choice of the right length of desks can be a real headache. What to do to provide more archives storage space, documents and keep the tables tidy? Our cheap office furniture removal firm, together with our designers, can offer you to develop a draft of the new office space. We will plan the furniture layout for each room. You will be happy with the final result. The office space will be utilized as efficiently as possible. We know how to move office! We also know to to move factories or even hospitals - yes we are also hospital movers.
Depending on how you want to emphasize you business image the office furniture can be made ​​of various materials. We can suggest the MDF for your regular employees and the natural wood for senior executives and the reception and meeting room areas. Moreover we can create furniture using acrylic, plastic or the best components imported from Brazil, USA or Canada. We offer reliable assembly and durability without the need for a maintenance schedule.
The office furniture produced by our business partners can be delivered to anywhere in the UK directly to you. This allows avoiding any incidents of corruption or loss of functional features caused by a fall or careless handling of the furniture while loading, unloading and transportation. Our products will please your eyes and serve you for a long time without any extra hassle.