OFF-SITE CRATE STORAGE
When busy moves are being undertaken, particularly at weekends, crates often become empty early and are available for collection prior to the scheduled collection day that has been arranged with the crate supply company.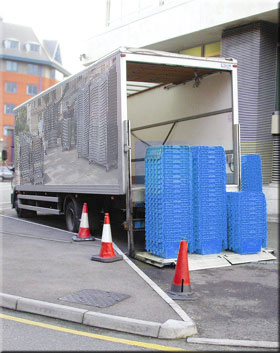 Consequently, our clients often request that we remove these empty crates from site, usually at the end of the move weekend, storing them at our own business storage facilities.
Until now, we have attempted to accommodate this 'ad hoc' request in the spirit of co-operation and flexible customer service, and at no charge to the client. However, this unplanned service - off-site crate storage is now having an increasing impact on the scheduled work routines of vehicles and operatives, with the need to provide additional staff to unload vehicles back at our warehouse company depots and the use of premium storage space either within vehicles or at our storage facilities.
Our company is therefore changing the way it handles requests for off-site storage of crates. From 1 January 2014, there will be a charge of £30 per 100 moving crates (or part thereof) for collection and storage of moving crates prior to their scheduled collection by the crate supply company. In addition, this service will only be available when we have vehicles and operatives working at the location from where the unscheduled collections are to be made.
Our network of removal companies have decided to continue this off-site crate storage service with a nominal charge rather than remove it completely because we feel that it offers several key benefits to the client. Removal of crates from site at the earliest opportunity is always the preferred option for reducing congestion and improving the health and safety conditions when moving office. It can also eliminate the need for a dedicated marshalling area for empty crates, and it aids crate administration, with less chance of crates being lost between 'move end' and scheduled collection.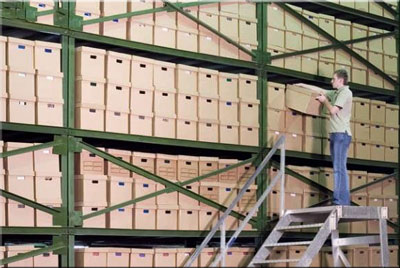 Should the client require unscheduled collections and storage of crates from a site at which no our teams are working, we can user our suppliers that can provide a dedicated service, subject to their own removal costs, and terms and conditions.
Our crate administration department would be happy to put the client in contact with our relocation manager that can advice and put in contact with our appropriate supplier.
The need for crate collection and delivery to be as flexible as possible is being addressed by us in order to provide continuing improvements in service.
Our relocation consultants and move managers are always happy to discuss customised crate management solutions prior to your move.