Warehouse Services
Our company has been providing warehouse management services in all UK for many years. Like all of the services we provide, it has been developed through consultation with our clients, enabling us to evolve a service portfolio which perfectly fits with the demands of modern organisations.
By using our live web based management system for off-site business storage requirements, clients benefit from a computerised storage inventory management system that provides full desktop control of your stored assets as well as secure remote online access. Data is held centrally allowing inventories to be viewed and managed.
The warehouse services:
Working in compliance with the highest industry warehouse management standards , a number of industry accreditations
Data Protection Act
Web based warehousing services management system
Professional protection, access, retention, storage and disposal of vital / confidential information.
The people:
Uniformed staff at all times carrying photographic ID cards.
Security vetted
Network of UK wide warehouse companies
The warehouses [off-site]:
Steel structure perimeter fencing.
Single-entry warehouse.
CCTV monitoring and recording.
PIR-activated night-time floodlighting.
Smoke detection and security systems
The Data:
A central database server linked to all local terminals.
Transaction logs backed up every hour.
Overnight full system backup (including verification).
Quarterly disaster recovery to standby server.
Warehouse companies
Our warehouse storage companies haw over 800,000 square feet of warehousing at over twenty locations: London, Bristol, Liverpool, Leeds, Manchester, Glasgow, Edinburgh, Perth, Aberdeen, Newcastle and more.
Within most main warehouse facility are specialist vaults for the storage of irreplaceable and other vulnerable material. In addition to the normal safeguards, each vault is environmentally controlled and equipped with advanced gas-suppression fire prevention.
A secure centrally-located national database provides maximum data security for client inventories.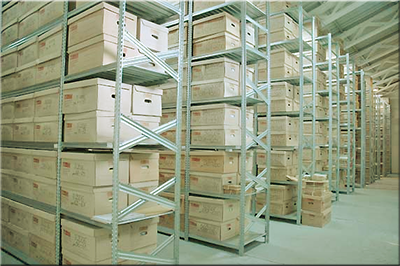 Storage is of modern brick build and cladding construction with eaves level skylights.
Buildings are regularly maintained with a planned maintenance programme.
Our warehouse companies have provided specialised office removals and storage, and associated support as a core service to our blue chip clients for over ten three years.
During this period, our warehousing service offering has evolved to meet the changing needs of our customers and to deliver new processes and technologies such as web enabled, bar-coded storage, with online order call-off and digital picture inventory. A secure centrally-located national database provides maximum data security for client inventories. Also check our warehouse removals services.