Most Popular Office Chairs
When one is expected to, on a daily basis, sit at a particular table and work like there will be no tomorrow, it could be very frustrating and inhumane, but not when he/she has the necessary equipment to feel comfortable throughout these long hectic hours. The nature, or, better put, the kind of office chair in a workplace can make work interesting or frustrating. Comfort is always a priority when designing office space that is projected to be, day in day out, super-active. With the right comfortable chair, this feat can be, to a great measure, achieved.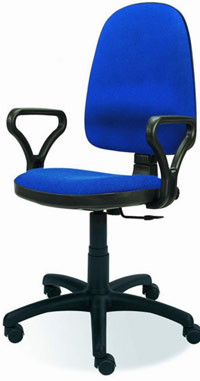 There are a lot of comfortable office chairs available in the markets for purchase. In choosing one for a workplace, comfort should be first before attractiveness and then whatever that may cross a buyer's mind. In making the right choice, there is a need to be aware of the most common and most widely used executive chairs, which include:
Herman Miller Mirra Chairs
Herman Miller Mirra chairs are one of those most common office chairs that have got all one can possibly need from a chair. They give users the comfort they deserve while at work and can give them more when they are taking a break from work, with their adjustable features that can enable users position them the way they want them. The different brands are valued in the range of $600 - $800.
Features: Armrests, lumbar supports, mess coverings, perforated backs and tension tilts.
Benefits:
Offer a lot of adjustable features such as seat lengths (only for the full enchilada brand), armrests, tension tilts, lumbers etc.
Help for erect positioning when users are at work with their stiff backs.
Have lumber supports that can be adjusted to any form or position for comfortable more prolonged usage.
Possess perforated backs and messes for breathe.
Drawback:
Might not accommodate tall and heavy users comfortably as a result of the shallow and narrow nature of their seats.
Raynor Ergohuman chairs
This is another brand of very enjoyable chairs one might consider getting for his/her business. The appearance of these very unique, nice, safe and comfy office chairs can give one the impression of how perfect they will be for their work. Ergohuman, the manufacturers, really threw into the wind simplicity just to give users what they really need.
Features: Height adjustable armrests, tension tilt controls, lumbar supports, head rests and back angle adjustments.
Benefits: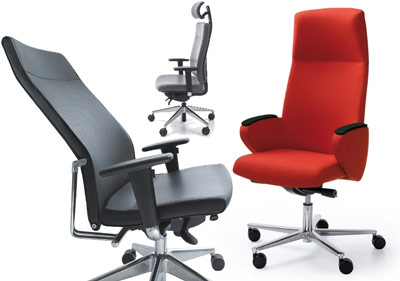 Adjustable features help in the maximization of comfort.
Lumber support for longer usage.
Ideal for tall and big users.
With all the awesome qualities, are surprisingly affordable as they sell for just $650.
Head rests offer more relaxation and comfort.
Have you got any old furniture and want to get rid of it? Check our office clearance services section.
Drawback:
Can be a no go area for short users.
Steelcase Leap
Steelcase Leaps are renowned for there simplicity-yet-dependable nature. With this brand of office chairs, what one sees isn't what he/she gets. One sees simple chairs that look more like the ordinary chairs seen in barbers' shops but gets whatever he/she get from premium chairs, if not more. These type of very common chairs should definitely find a place on your essential office equipment list.
Features: 2 patented system backs (Live back and Natural glide), adjustable armrests and tilts.
Benefits:
Extremely simple.
2 patented system backs for extra support.
Offer maximum comfort.
Drawback:
The most rated forms of this brand are valued at a whopping $900 and therefore, very exorbitant.
Business Star Work Smart
Business Star WorkSmarts are widely considered as one of the best leather chairs available in the market at the moment. They are simple and are very ideal for well ventilated properties where temperature is rarely a problem. In addition to their simplicity, they are reliable when it comes to providing maximum comfort to users. If you are thinking of buying new office furniture you should definitely consider purchasing some of those very light and cosy chairs.
Features: Adjustable armrests, tilts and lumbar adjustments.
Befits:
Allow for comfortable sitting.
Very affordable at just $200.
Perfect for tall and big sitters.
Drawback:
Due to the fact that they are leather chairs, they do not breathe and can make a user uncomfortable in hot weather.
Star Space Professional Air Gird Chair
This might be last on this list but among the best out there in the market. These ones, though, often ignored by buyers, combine the benefits offered by leather and mesh chairs.
Features: Tilt, lumbar adjustments, armrests and air grid backs.
Benefits:
Their air grid backs make them usable in any weather.
They offer a wide range of adjustments.
They are affordable at just $175.
They are very simple.
Drawback:
There are, of course, other considerable common chairs, but the above-listed stand out for their combination of quality features and affordability.