Office Refurbishment Services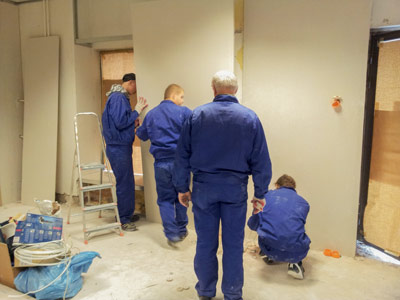 The entire aesthetic, interior decor and arrangement and placement of furniture in an office go a long way in determining the success of the business. If your office looks awesome, your clients will have a better image and impression about your business. But the reverse is the case if your office does not have a stunning visual appeal.
This is why it is important that you refurbish your office on a regular basis so that it will look stunning and be very comfortable and relaxing for your employees and customers that have to wait for some time for the issues to be looked into. But office refurbishment is not a work to be done anyhow. It requires expert handling.
So, when it is time to renovate and refurbish your office in London, Birmingham, Manchester, Leeds, Kent, Bristol, Berkshire, Hampshire, Glasgow, Liverpool or anywhere in UK, you should hire professional and efficient office refurbishment companies and other service providers. If you are planning your office redecoration your should check our office employee relocation solutions, so you can easily move the entire staff to temporary location and back to your office once redecoration work is completed.
Office refurbishment companies
We are cheap and the right office refurbishment company that you need. Our office refurbishment services and costs have been developed over the years in order to make it possible for our clients to improve the aesthetics and visual appeal of their office and also to create a better working environment for their employees and a relaxing and comfortable environment for their clients.
We apply our many years of experience, expertise and industry best acceptable practices and technology while rendering our services to our clients.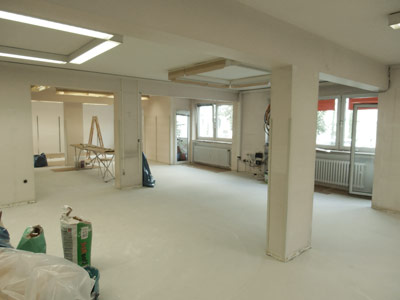 We are able to execute all office refurbishment services starting from walls, partitioning, ceiling, floors, electrical, security system, plumbing, air conditioning, IT and special fittings. In order to do this effectively, we have acquired the necessary tools and equipment used in design and renovating office in order to make the work easier for our team.
Our London Removals division can also move your equipment to our business storage for the time of the refurbishment.
We are quite aware that equipment alone without the workers having the required skills and expertise will not be of any use.
This is why we have taken a step further by recruiting qualified candidates and providing them with adequate training in office painting and decorating. Over the years, we have succeeded in building a team of dedicated professionals in office refurbishment. They are capable of giving a better face to your office no matter how bad it looks and where you are located - London, Bristol, Manchester, Liverpool, Edinburgh and just to name a few.
Planning an office Fit Out in London
Before starting any work, our team will take time to scrutinise every detail of the contracts and tender in order to ensure that nothing is excluded. We will take a look at your office and work out a better design plan for your office space taking into consideration the need of your business, the well being of your staff and comfort and relaxation of all that come into the office on daily basis.
Our office Fit Out experts will provide you with detail information about the contract such as the turnaround, cost and other necessary documentations for your review and approval. We will immediately start work once it is approved. We can also arrange a temporary office removals should you need one.
Before starting any office refurbishment activities, we will work out new Fit Out plans on how to ensure continuity. So, don't bother about your business and how to keep your business going. We will develop a perfect plan for you in order to ensure that the refurbishment work does not interrupt your business activities.
Managing the refurbishment
As a leader in the industry, we know what office refurbishment entails. We will collaborate with any other business or personnel involved in the project such as designers and the management of your business to ensure the smooth execution of the project and that there is no disconnect from any angle. We will take time to evaluate all documents and files in order to ensure that no part of the plan is left untouched.
We put the interest and satisfaction our client first before any other thing including our interest. This is why we always task our brain in order to ensure we provide the best refurbishment services according to the requirement of each one of our clients. We guarantee you satisfaction. We are always managing our refurbishment projects from start to finish with at most care. Providing such a services like recycling school furniture, disposing office equipment, assembling and dissassembling furniture and many more. We cooperate with local WEEE recycling companies, so in case you need such service you can get attractive rates.
As a leader in the industry we offer a complete package of office refurbishment London at a competitive price. Some of our packages include:
partitioning systems
general refurbishments
office flooring
suspended ceilings
office flooring and others
We will pay strong attention to the requirements of clients and the government building requirement if there is any.
With our years of experience and team of professionals, we are optimistic that we will satisfy you and even exceed your requirements if you hire company offering office relocation in Glasgow.
There is no record of delay and negative outcomes in our history. Our clients are always happy with the refurbishment services we provide and we believe that you will also be happy after when deliver our services to you.