The recycling of office furniture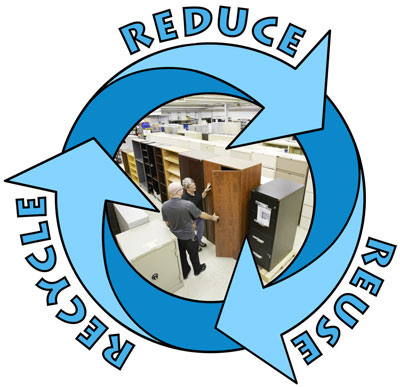 Our furniture recycling company is an award winning partner to all businesses wanting to dispose of unwanted, broken, old and used office furniture in a green, eco-friendly way. We offer a range of furniture recycling solutions: donations, reuse, resale, restoration and finally disposal by recycling. We successfully recycle different office desks, chairs, 4 drawer filing cabinets, storage cabinets, metal cabinets, bookshelves, computers, printers, servers and other equipment used in your office.
Our Mission is to:
Radically change the way society thinks about waste
Minimise the UK's reliance on landfill disposal of office furniture and equipment
What we do:
Re-use of furniture - Furniture recycling retail teams focus their acquisition activity on finding new end users for the furniture received and selling more into their current customer bases. Our UK furniture recycling company also provides donations of house and office furniture for international projects as well as arts projects here in the UK - especially in London, Birmingham, Bristol, Leeds, Glasgow, Edinburgh, Manchester and Liverpool.
Re-manufacture - As much material as possible is removed from the remaining furniture and used in our UK recycling centre by professional joinery team who design and produce a standard range of new office and children's furniture. They can also provide items from the range made up to a customer's own specifications.
Recycle - All furniture that cannot be re-used or re-manufactured is broken down into its component parts (i.e. wood, metal, plastic, etc.) and sent for re-cycling through dedicated, fully audited companies. For example, wood based products are sent to specialist energy generating incinerators and for composting.
Resale - If your office furniture are of any value we will try to sale them on our internet used furniture auctions on our website.
Recycling achievements:
Help UK businesses to meet their corporate and societal responsibilities
Have diverted 10,000 tonnes of office furniture, desks, chairs, filing cabinets, away from landfill
We have dealt with - 2,500 staff
Provide a lot of social benefit each year
Helped over 5000 small and large UK companies with furniture recycling saving them a lot of money
Organization of the removals network to be able to collect furniture from any location
Capabilities:
One of the best in class for environmental disposal: 96 - 99% diverted from landfill
National coverage with 10 major warehouse companies and recycling sites in London, Manchester, Liverpool, Bristol, Glasgow and more.
Flexible customer focused approach.
With our partners, we are providing a complete furniture removal capabilit
General information about the recycling of office furniture
Recycling is one of methods of the environmental protection. Its aim is to reduce the consumption of natural resources and reduce waste.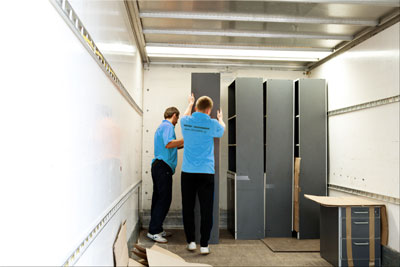 The concept of furniture recycling means the recovery, which is based on reprocessing of substances or materials contained in rubbish in the production of goods.
The main goal is to get back the original substances or materials and use them again to manufacture the same or other products.

The principle of recycling is to maximize the re-use of the same materials, and at the same time to minimize the recovery expenditures. A good recycling of office furniture protects natural resources that are used to recover the materials used to make the original product and the raw materials used for further processing and production.
Recycling takes place in two areas: production of goods and the subsequent formation of waste. The international and European law force producers to appropriate attitudes conducive to the usage, in the production process, the most recyclable materials and to the creation of appropriate behaviour of the recipients of the final products.
How to recycle used, broken and old office furniture?
Recycling is a system of organizing the circulation of materials that can be re-processed. The system consists of following elements:
appropriate state legislative policy conducive to the recycling of office furniture and IT equipment as well as waste electrical and electronic equipment recycling
development of the waste treatment technology, especially of the reuse of as many waste parts as possible
designing goods with the widest possible use of materials vulnerable to be recycled
design of goods from homogeneous materials to simplify the disassembly and segregation of waste
design of various every-day-use items from a combination of different materials in such a way that the subsequent separation of the furniture components is as easy as possible
design of office furniture in such a way that as many of its components as possible is suitable for re-use without any treatment or with a minimal effort to bring it to a complete homogeneous elements

Standardized packaging signage systems for determining both the products and its components, in order to facilitate identification and segregation of waste
Pro-ecological education of the society
Supporting and founding furniture recycling companies
Promotion and organization of pro-ecological behaviours
Good logistic of sorting, collecting and picking up of used furniture and their components
Processing of early prepared and segregated waste and recovery of raw materials
For more info on hos to get rid of unwanted furniture please contact us at your convenience. We will teach you about all possible ways of disposing of and recycling of office furniture, desk, storage cabinets, office desks and chairs, school furniture disposal and all other stuff you have in your office. We will also advise on confidential shredding services. Find out a cheap way to recycle your old furniture. We offer the cheapest furniture recycling solutions delivered by professional UK moving companies.