Labelling crates and computers for moving
Please note that LC3 crates are to be packed with personal contents (desk and pedestal contents) and that LC6 are to be packed with bulk filing.
Please be aware of the following points, when packing and preparing crates for moving:
Please do not overload crates - the weight should not exceed 25kg
Do not place labels on top of the crates (as per example below). The moving crates can be piled up on top of each other up to four. You will not be able to see the labels.
Please do mark your reference number clearly on your crate to ensure the correct destination
If you are moving confidential files, personal belongings from the desks or pedestals or any valuable office equipment please do use plastic seals on each end of crate
Please make sure all personal desk contents, i.e. trays, stationery, calculator, mouse pads, wrist rest, foot rest, VDU anti-glare screens etc. are packed accordingly
Please ensure that chairs, waste bins or items unable to be packed into crates are labelled with your ID number
Addition information about services offered by our office removal companies
Labelling and labels
Self-adhesive coloured labels will be supplied as per the example below. A colour coded plan will be issued to each department. A label will be put on all items moving and will be marked with the new location number at destination - 21 colours of labels are available for use.
The label colour will indicate the zone and floor at the new location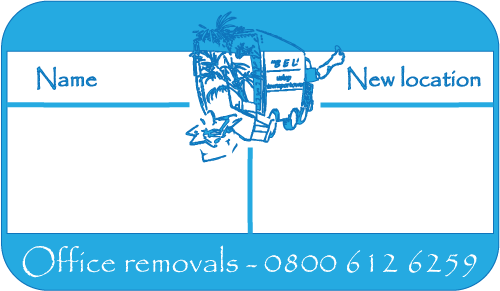 | | |
| --- | --- |
| Name and room number to be entered if appropriate | Position number will be entered to indicate the item position on the floor-plan |
HOw to label crates for Moving?

Place your coloured label at each end of the crate, as indicated below:



Labelling computer equipment:
The computers are to be labelled as below. All associated cables should be put into one bag which will be provided to you by our computer movers team.
Please follow this guide when labelling your PC for the computer and server relocation (Labels must be in place by 16.00 hours the day of your move earlier if possible).
Attach labels provided in the positions shown above. Four labels in all are required for a standard PC comprising base, monitor, keyboard and one label partially stuck to the monitor for use by office movers when packing your cables and mouse. Where there are any external peripherals attached to your computer, such as external CD-ROM drives, modems, etc., please ensure that each item has its own label.
Remember that only labelled items will arrive at the correct destination.
If there are two PCs labelled for the same destination, identify each system with a unique suffix, e.g. 10a and 10b. Please pack your wrist rest, mouse mats etc. into a crate or one bag so they are together.
If labels will not stick properly please wipe the area with a damp cloth and allow it to dry, then try again. Most of the PCs are a bit dusty with all the packing going on.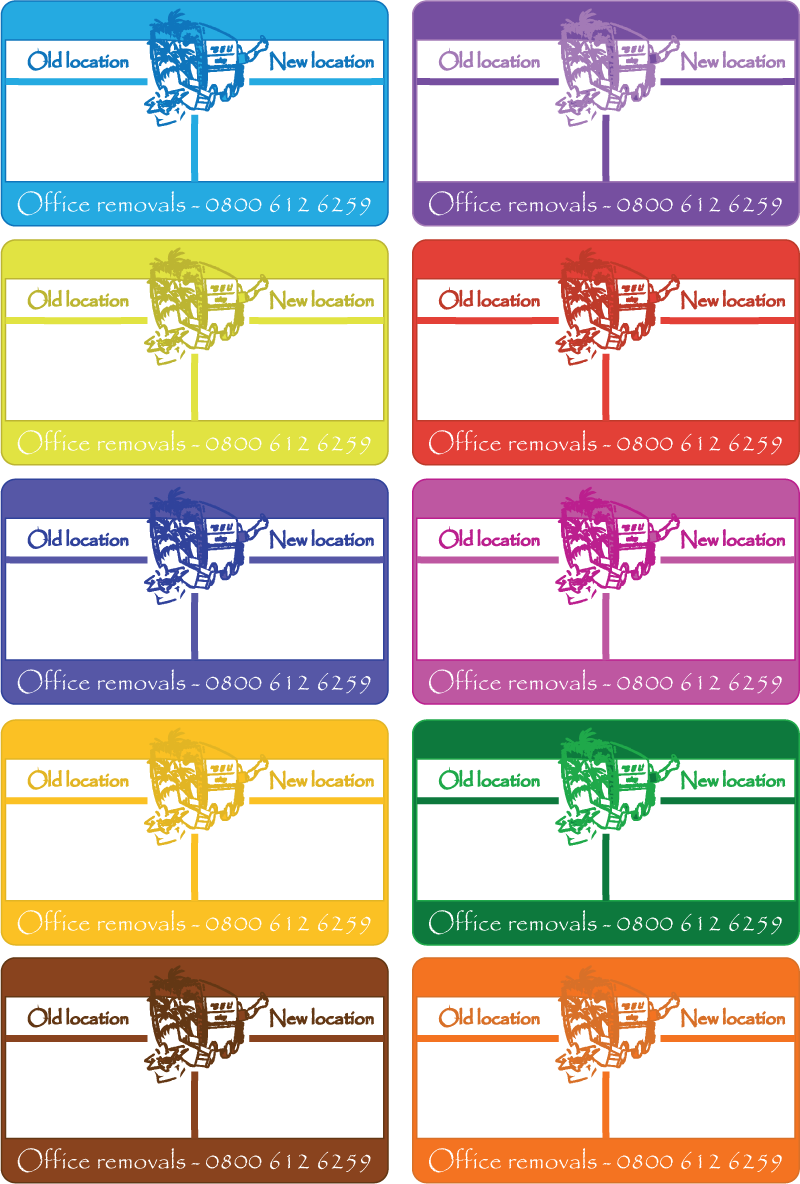 Coloured labels for moving furniture, crates and boxes - print and use. Please contact us for more info and advice on labelling office furniture, crates and IT equipment (screens, base units, keyboards, mice and cables). Find out how to combine the labelling and numbering systems and mark it on the floor plans. We offer free office survey and provide basic info on how to plan a move. The pre move planning meeting is free and with no obligation so why do not you take advantage of it? We will issue a special labelling guide so each member of you staff knows how to label standard office equipment for the move. We will also create a distribution list for easy and smooth communication. There is much more we can do, not just labelling! Contact our relocation manager for more details. We are always happy to speak to you even if you just looking for some info on how to label boxes for moving.
Our labels come off very easily and do not leave any marks or glue. You just take the label off and you will not see anything - no sticky surface that gets dirty and ugly. Our labelling methods are checked and make the entire move much easier to cope with.